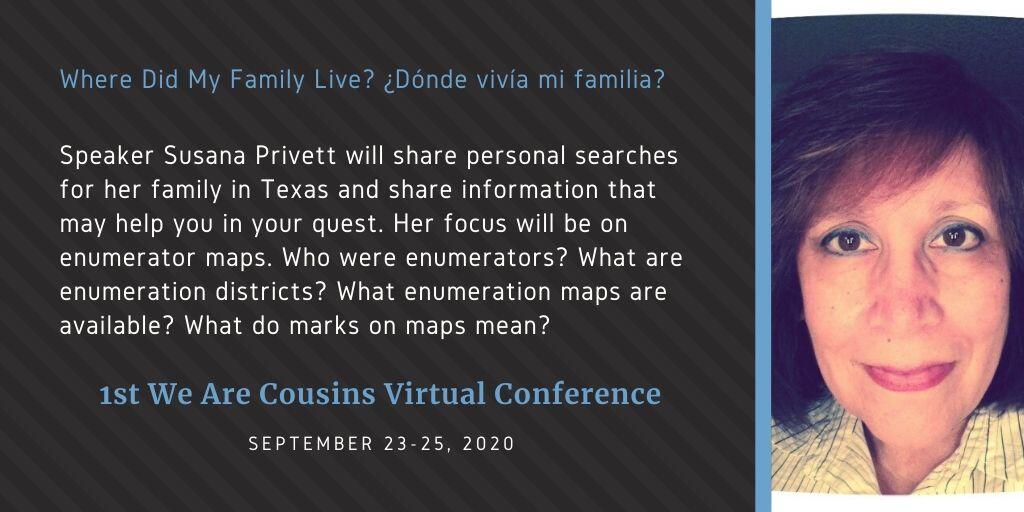 Census Bureau Specialist, Susana Privett will be a speaker for the 1st Annual We Are Cousins Virtual Conference this coming September 23-25, 2020. In this post you can read more about him and what he will be presenting.
About Susana Privett
Susana Privett works closely with organizations, local governments, businesses, government agencies, and other entities to provide a clear understanding of the Census Bureau as well as the data collected. Susana provides presentations and conducts workshops about Census data, various surveys and more from census.gov.
Presentation Information
Title: Where Did My Family Live? ¿Dónde vivía mi familia?
Summary: In this presentation I will share some personal searches for my family in Texas and share some information that may help you in your quest. This focus will be on enumerator maps. Who were enumerators? What are enumeration districts? What enumeration maps are available? What do marks on maps mean?
For More Information About Our Speaker
Website: n/a
Facebook Page: n/a
Read About Other Speakers