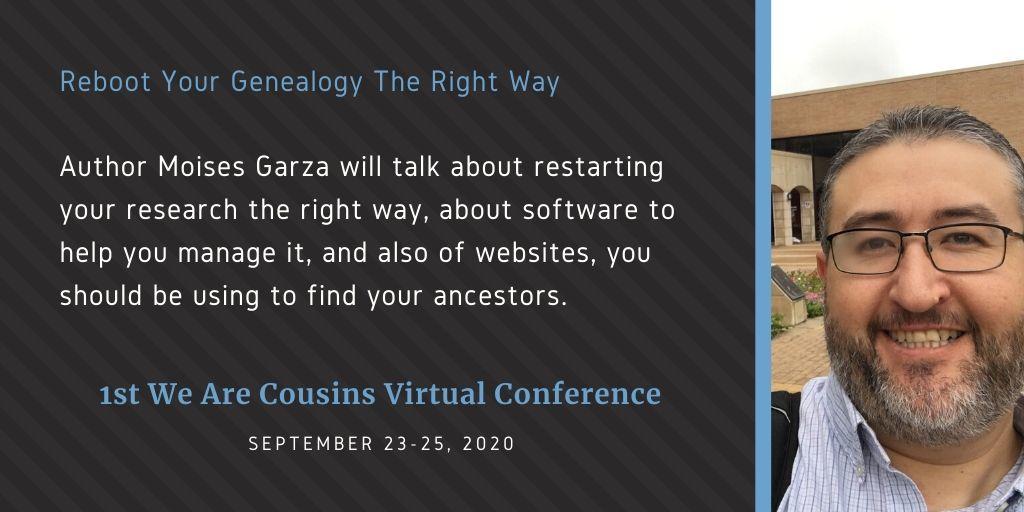 Speaker and Author Moises Garza will be a presenter for the 1st Annual We Are Cousins Virtual Conference this coming September 23-25, 2020. In this post you can read more about him and what he will be presenting.
About Moises Garza
Moises Garza is the founder of We Are Cousins and Las Villas del Norte Genealogy Group. He is also the author of over 30 publications and the popular book series Last Names of Nuevo Leon. He is also the creator of the Mexican Genealogy blog and the many Facebook groups that form part of the Mexican Genealogy Network.
Presentation Information
Title: Reboot Your Genealogy The Right Way
Summary: Author Moises Garza will talk about restarting your research the right way, about software to help you manage it, and also of websites, you should be using to find your ancestors.
Title: Introduction to DNA for Genealogy Research
Summary: Learn about the different types of DNA tests for genealogy or ethnicity, the companies that provide these tests, and finally learn about tools and resources to help you get the most out of your DNA results.
Read About Other Speakers