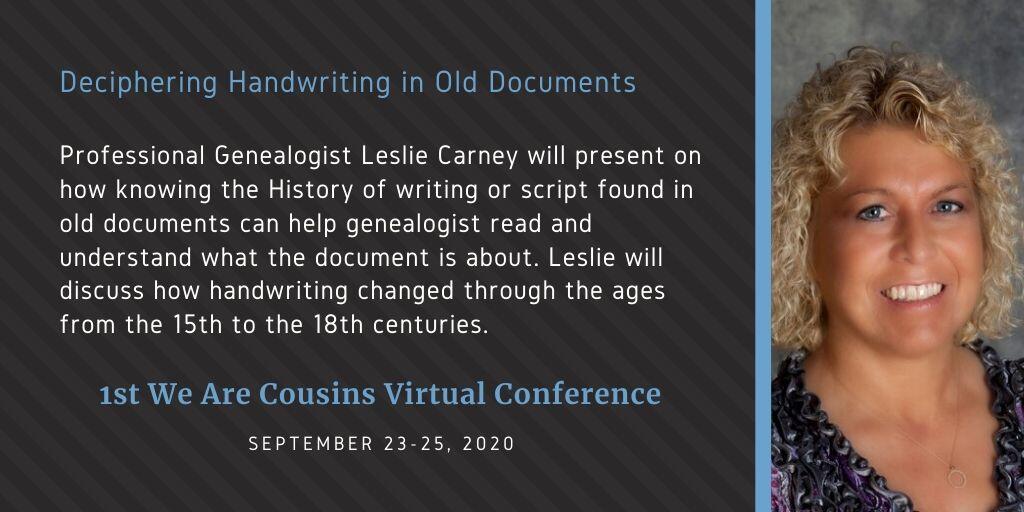 Professional Genealogist Leslie Carney will be a speaker for the 1st Annual We Are Cousins Virtual Conference this coming September 23-25, 2020. In this post you can read more about her and what she will be presenting.
About Leslie Carney
Leslie Carney, living in Tucson, Arizona is a Professional Genealogist, Researcher, and Speaker. With over 25 years' experience in genealogy and family history research. Specializing in Southwestern United States and Sonora, Mexico. She holds a certificate in Genealogical Research from Boston University.
Presentation Information
Title: Deciphering Handwriting in Old Documents
Summary: Knowing the History of writing or script found in old documents can help genealogist read and understand what the document is about. Leslie will discuss how handwriting changed through the ages from the 15th to the 18th centuries.
For More Information About Our Speaker
Website: n/a
Facebook Author Page: n/a
Read About Other Speakers