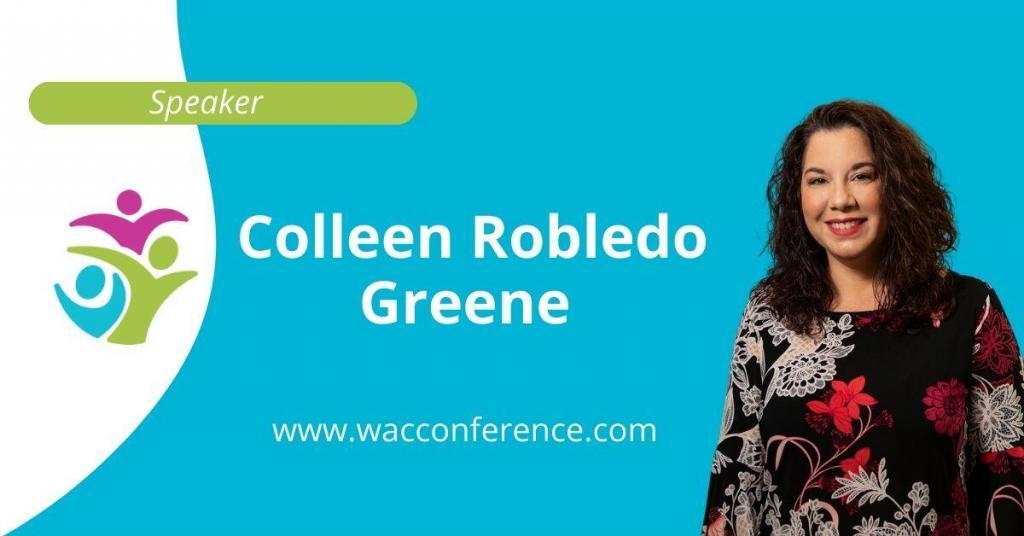 Colleen Robledo Greene has been a speaker in the past for the We Are Cousins Virtual Genealogy Conference. In this post, you can read more about her past presentation and how to watch them.
About Colleen Robledo Greene
Colleen Robledo Greene, MLIS, is an academic librarian and college educator. She is a nationally recognized speaker specializing in Mexican and Hispanic research, methodology, libraries and archives, and technology. She also teaches a graduate-level genealogy university course. Colleen has been researching her family history since 1997.
Past and Archived Presentations
NOTE: The following presentations can only be viewed for 60 days after each conference if you purchase the Gold Pass. Or all year if you purchase the Platinum Pass.
Key Note: Para mis Antepasados: Teaching & Advocating in Their Honor (presented on the 5th WAC Conference)
Summary: Colleen calls herself a Latina Leprechaun and Double Half-Mexican. Losing a close grandfather sparked her family history interests. Colleen did not anticipate though that this journey would lead her to seek a deeper connection with her culture and become a reluctant specialist and advocate for Mexican and Hispanic genealogy education. Watch Presentation
Title: The American Southwest: Digitized Collections & Archival Finding Aids (presented on the 4th WAC Conference)
Summary: The southwest is rich in records pertaining to the Spanish, Mexican, territorial, and statehood eras. Learn about key finding aid portals to locate specific repositories and collections to visit in-person, as well as key portals to consortia-shared digitized collections that can be accessed online for free. Watch Presentation
Title: Finding Free Digital Content to Enhance Your Family History Storytelling Without Violating Copyright (presented on the 4th WAC Conference)
Summary: Genealogists often incorporate digital content created by others into our personal, society, or professional work. What can you freely use without violating U.S. copyright law? This presentation explains public domain and Creative Commons-licensed works, and the terms and conditions under which you can freely use these materials. Watch Presentation
Title: Your 19th & 20th Century Mexican Ancestors in the U.S. (presented on the 3rd WAC Conference)
Summary: A new border, new laws, a violent revolution, two world wars, and changing economic and political conditions significantly impacted your Mexican ancestors who came to or were born in the United States after the mid-19th century. Watch Presentation
Title: Utilizing the HathiTrust Digital Library for Family History Research (presented on the 3rd WAC Conference)
Summary: HathiTrust, underutilized by many genealogists, is packed with digitized publications from academic and research institutions that are relevant to your family history. This lecture walks you through HathiTrust's discovery and access tools, showcases U.S. and international collections that are particularly relevant to genealogists, and demonstrates essential search strategies. Watch Presentation
Title: The Academic Library: An Untapped Resource for Family History Research (presented on the 2nd WAC Conference)
Summary: Academic libraries provide access to digital and physical collections, and specialized research services that are relevant to, yet often overlooked by, genealogists. This presentation will take the mystery out of academic libraries, while highlighting materials that are particularly relevant to researching our Mexican ancestors. Watch Presentation
Title: Taking a Closer Look at Immigration Records for Your Mexican Ancestors (presented on the 2nd WAC Conference)
Summary: Did your Mexican ancestors immigrate to the United States in the 20th century? This period of history witnessed significant waves of Mexican immigration to the U.S., both permanent and temporary. The types of immigration records introduced or refined during this era, provide a wealth of information. Watch Presentation
Title: Improving You Research with the Genealogical Proof Standard (GPS) (presented on the 1st WAC Conference)
Summary: The GPS is the recognized standard for ensuring accurate research. This standard is not just for professionals. It is for any family historian who wants to make sure that the facts you have collected and conclusions you have reached are correct. Learn the GPS following a Mexican case study. Watch Presentation
Read About Other Speakers