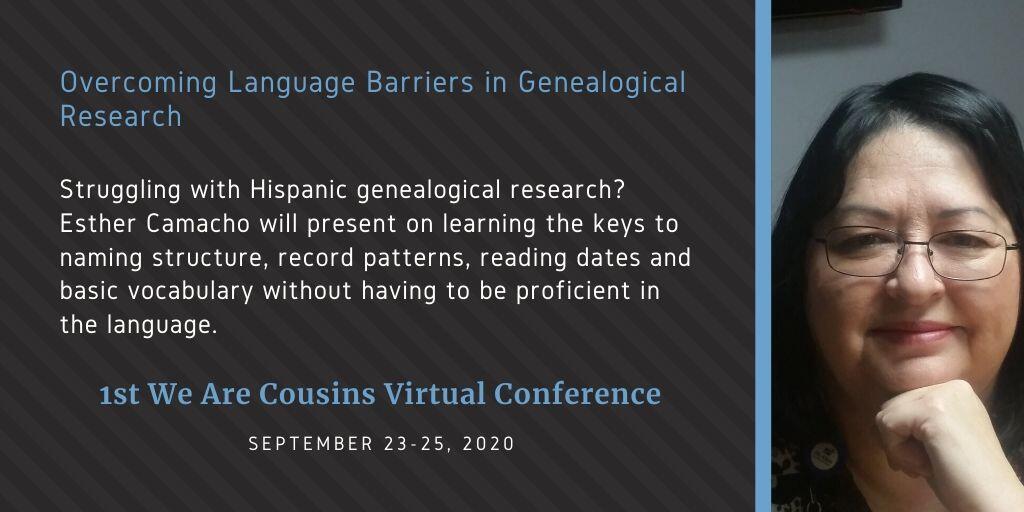 Researcher and Librarian Esther Camacho will be a speaker for the 1st Annual We Are Cousins Virtual Conference this coming September 23-25, 2020. In this post, you can read more about her and the two presentations she will be presenting.
About Esther Camacho
Esther Camacho is a south Texas librarian, genealogist, and historical researcher. She has done historical and genealogical presentations to various organizations, genealogical groups, and state conferences. She is an active member of the Hidalgo County Historical Commission. Her primary focus is genealogy, local history, and cemetery research.
Presentation Information
Esther will be presenting the following two presentations.
Title: Overcoming Language Barriers in Genealogical Research
Summary: Struggling with Hispanic genealogical research? Learn the keys to naming structure, record patterns, reading dates and basic vocabulary without having to be proficient in the language.
Title: Using City Directories to Build Your Family History
Summary: City directories provide a unique perspective into an ancestor's community. It can also be used to create a detailed history of an ancestor's life in the community.
For More Information About Our Speaker
Website: n/a
Facebook Author Page: n/a
Read About Other Speakers