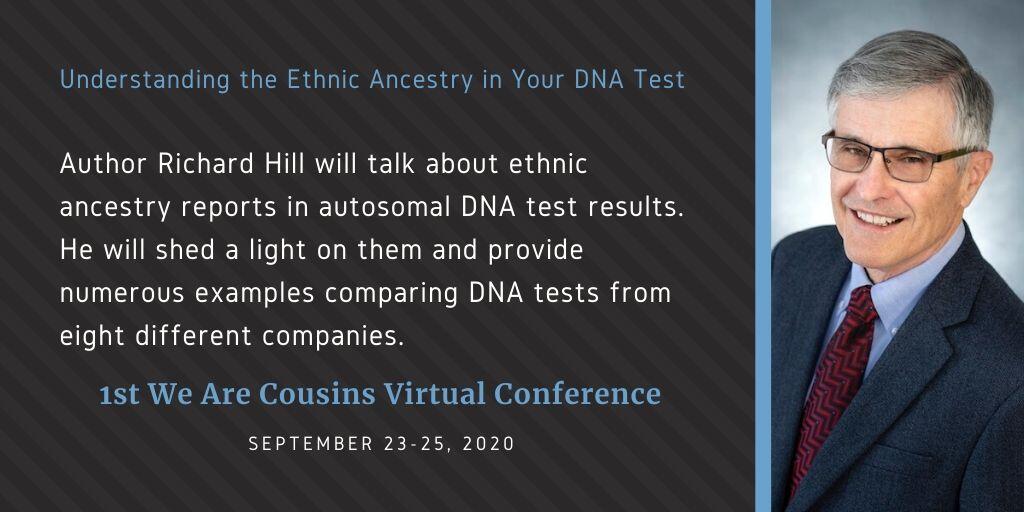 Speaker and Author Richard Hill will be a speaker for the 1st Annual We Are Cousins Virtual Conference this coming September 23-25, 2020. In this post you can read more about him and information about the two presentations that he will be presenting.
About Richard Hill
Richard Hill, the first adoptee to identify his birth family through genetic genealogy DNA tests, is the founder of DNA-Testing-Adviser.com and the author of "Finding Family: My Search for Roots and the Secrets in My DNA" and "Guide to DNA Testing."
Presentations Information
Title: Understanding the Ethnic Ancestry in Your DNA Test
Summary: The inclusion of ethnic ancestry reports in autosomal DNA test results has greatly expanded the market for these tests. But there is considerable confusion about such reports. This session is designed to shed light on the subject and provide numerous examples comparing DNA tests from eight different companies.
Title: Y-Chromosome Insights & Strategies
Summary: With so much focus on autosomal DNA tests, many people overlook Y-chromosome testing. Yet Y-DNA's uniquely male inheritance path lets you do things that cannot be done through other test types. This presentation will introduce you to Y-DNA testing and how it can be used for genealogy.
Read About Our Other Speakers