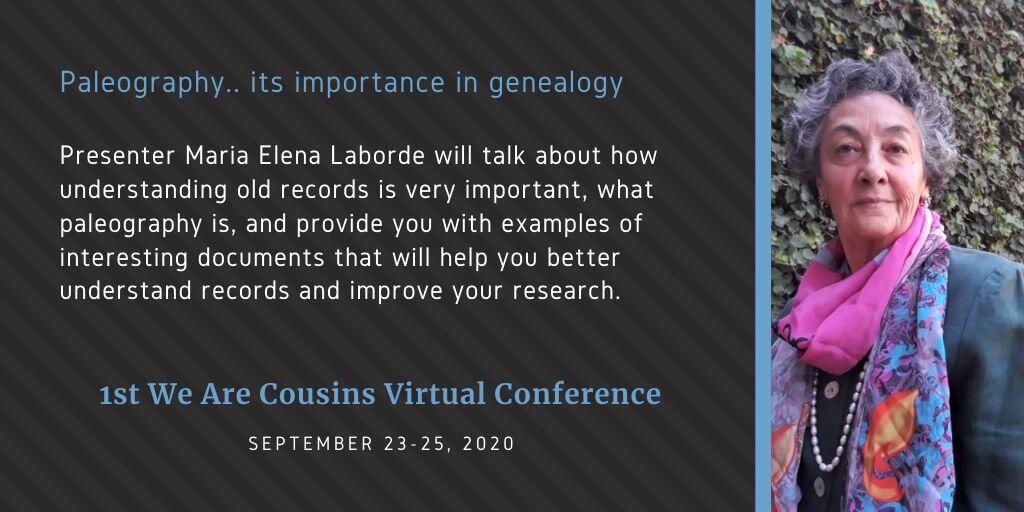 Speaker Maria Elena Laborde will be a speaker for the 1st Annual We Are Cousins Virtual Conference this coming September 23-25, 2020. In this post you can read more about her and the two presentations that she will be presenting.
About Maria Elena Laborde
Born Mexico City 1947, as result of 15 years of genealogical investigations published Nopalera, and later on a historical novel, presented in Madrid and London, Mexico City (Chapultepec Castle), speaker in 1918 at San Antonio (Bexareños), and twice at the Binacional in Saltillo.
Information on her two Presentations
Title: 1st. founders San Antonio, closely related to San Juan Bautista del Río Grande, today Guerrero, Coahuila
Summary: Being direct descendent of Francisco Hernández/Ana García, listed as founders of San Antonio, Ms. Laborde´s investigations prove that members of that family, through generations, were and are in contact with relatives of the town they left in 1718, today is Guerrero, Coahuila (San Juan Bautista del Río Grande del Norte)
Title: Paleography.. its importance in genealogy
Summary: Understand what the ancient acts and documents tell us is very important to be able to know where, when and how lived those investigated. is a magnificent source of information. What is the paleography, and give you examples of interesting cases, will help you to make a better work.
For More Information About Our Speaker
Website: n/a
Facebook Author Page: n/a
Read About Other Speakers