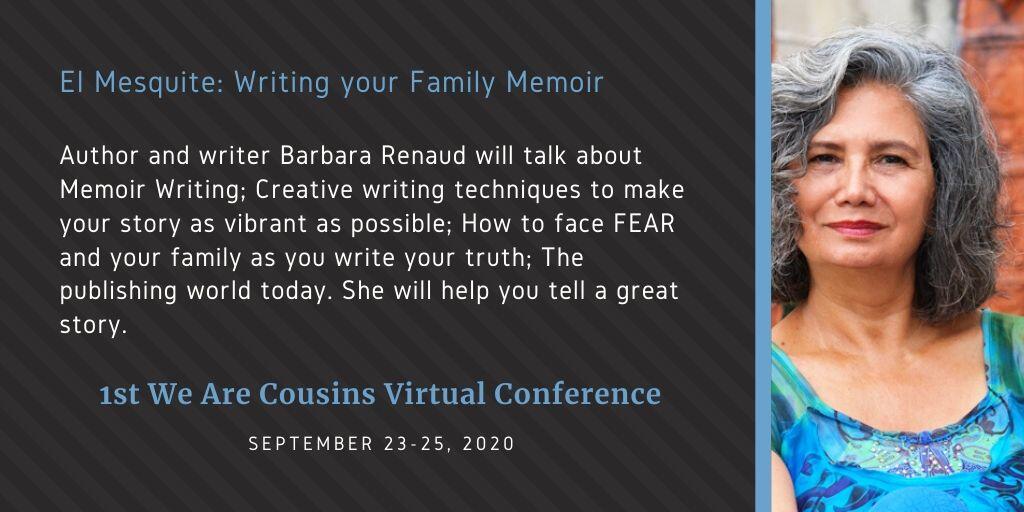 Author and writer Barbara Renaud will be a speaker for the 1st Annual We Are Cousins Virtual Conference this coming September 23-25, 2020. In this post you can read more about her and her two part presentation on writing family memoirs.
About Barbara Renaud
I am a published writer of three books. My first novel, Golondrina, why did you leave me? was the first Chicana novel to be published by UT Press, 2009, received prizes. I have taught Memoir workshops for GeminiInk in SA. . I am in Athens, Greece, finishing my fourth book.
Information About Her Presentations
Barbara Renaud will be presenting on how to write family memoirs in a two part series.
Title: El Mesquite: Writing your Family Memoir
Summary: Part 1: Participants will learn about Memoir Writing; Creative writing techniques to make your story as vibrant as possible; How to face FEAR and your family as you write your truth; The publishing world today.
I want to help you tell a great story.
Title: The Alamo In My Story: Writing your Family Memoir
Summary: Part 2: I have yet to read the great Tejana/o memoir.
Yet we have world-class stories to write. In this workshop, we will learn how to interweave the socio-political, geographic, and linguistic heritage that has impacted our lives, our family, into a great memoir.
For More Information About Our Speaker
Website: n/a
Facebook Author Page: n/a
Read About Other Speakers