Dr. Beatrice de Leon Edwards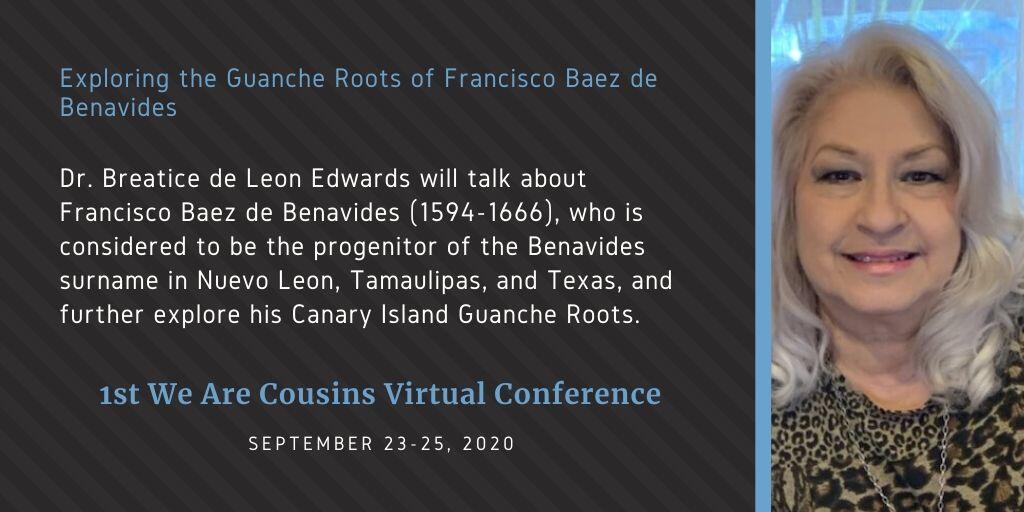 Dr. Beatrice de Leon Edwards will be a speaker for the 1st Annual We Are Cousins Virtual Conference this coming September 23-25, 2020. In this post you can read more about her and the two presentations that she will be presenting.
About Dr. Beatrice de Leon Edwards
Dr. Beatrice de León Edwards is a retired school district assistant superintendent, part-time professor, and author of local history books and articles. She has given presentations on the historical context of genealogical individuals and groups.
Information About Her Presentations
Dr. Edwards will be presenting two presentations and here are their titles and summaries.
Title: Exploring the Guanche Roots of Francisco Baez de Benavides
Summary: Many Hispanics are descended from Francisco Baez de Benavides (1594 – 1666), a well-known, prosperous landowner in the Monterrey, Nuevo León area of New Spain. He is considered the progenitor of the Benavides surname in Nuevo León, Tamaulipas and Texas. In this presentation, his Canary Island Guanche roots are further explored.
Title: Searching for the Mysterious Francisco Ruel
Summary: The presenter describes her elusive search for her ancestor Francisco Ruel, some of whose descendants changed their name to Ruelas. The search takes her to the city of Matamoros, Tamaulipas, where a study of the history of the city helps to determine further avenues of research into the Ruel family.
For More Information About Our Speaker
Website: n/a
Facebook Author Page: n/a
Read About Our Other Speakers