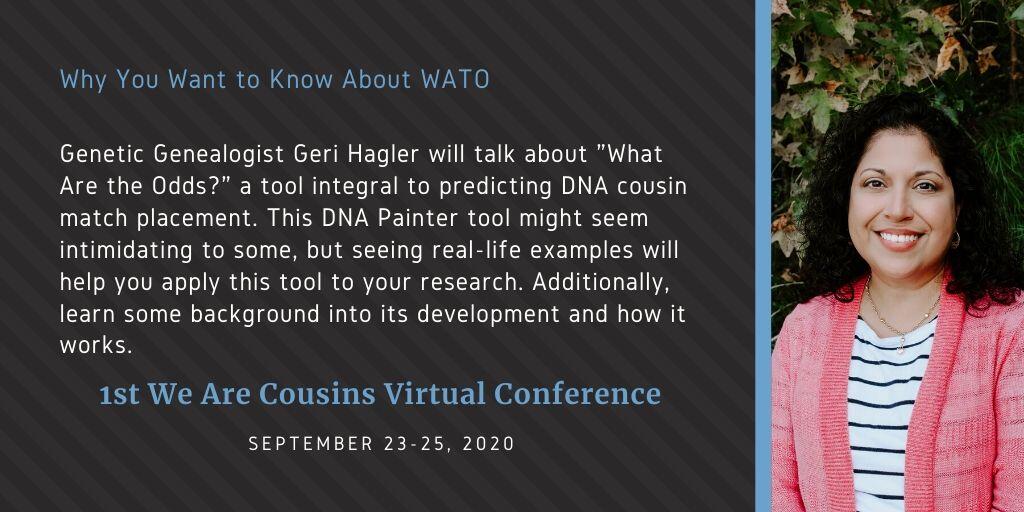 Genetic Genealogist Geri Hagler will be a speaker for the 1st Annual We Are Cousins Virtual Conference this coming September 23-25, 2020. In this post you can read more about her and what she will be presenting.
About Geri Hagler
Geri Hagler is a genetic genealogist, speaker, and educator. Her science and technology background helps her breakdown DNA topics and associated analysis tools into understandable concepts. Her many years of helping adoptees solve their unknown parentage cases with genetic genealogy inspired her to start, The DNA Decoder, her up-and-coming blog.
Presentation Information
Title: Why You Want to Know About WATO
Summary: The "What Are the Odds?" tool is integral to predicting DNA cousin match placement. This DNA Painter tool might seem intimidating to some, but seeing real-life examples will help you apply this tool to your research. Additionally, learn some background into its development and how it works.
For More Information About Our Speaker
Website: n/a
Facebook Page: The DNA Decoder
Read About Other Speakers