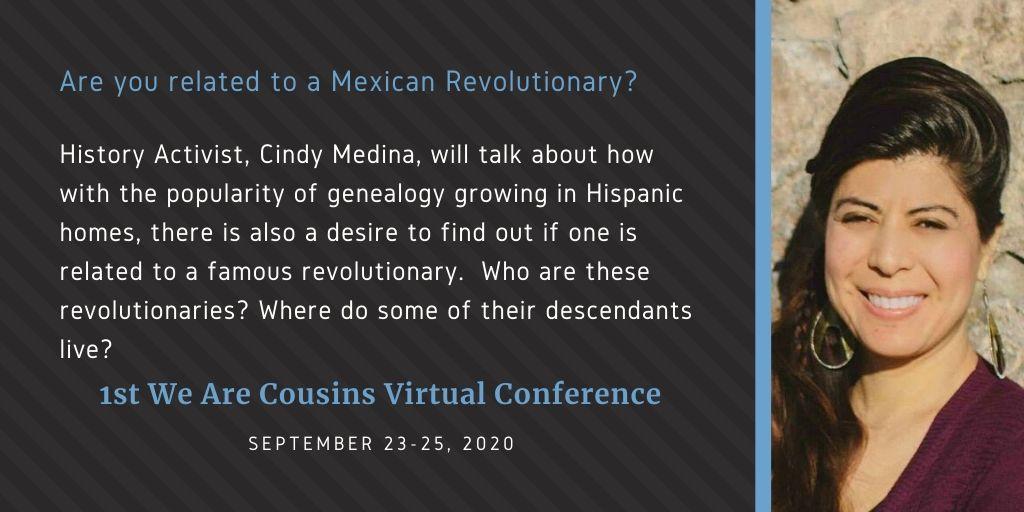 History Activist, Cindy A. Medina, will be a speaker for the 1st Annual We Are Cousins Virtual Conference this coming September 23-25, 2020. In this post you can read more about her and what she will be presenting.
About Cindy A. Medina
Cindy A. Medina is a publicist, history activist and genealogist. Her forte state is the state of Chihuahua. She is the cultural promoter and publicist for the Pancho Villa Stash House in El Paso, Texas. She is also the U.S. Ambassador for the General Felipe Angeles Foundation.
Presentation Information
Title: So you think you are related to a Mexican Revolutionary?
Summary: With the popularity of genealogy growing in Hispanic homes, there is also a desire to find out if one is related to a famous revolutionary or government federal. It is a matter of connection and pride. Who are these revolutionaries? Where do some of their descendants live?
Read About Other Speakers